My experience of engineering began at a very early age when I used to accompany my father to his engineering works at the weekends. It continued through my secondary schooling and was then developed more formally when I entered the RAF as a technical cadet at the RAF College Cranwell. Twenty five years of experience later I picked up more knowledge when I worked for an aviation company for 4 years before a move to the far north of Scotland gave me the opportunity to start my own company using my skills for home improvements and maintenance. My knowledge of hydraulics was ideal for dealing with plumbing problems and the design of central heating systems, whilst my experience with other complex aircraft systems allowed me to develop innovative solutions to some unusual problems. Keeping up to date with technology has enabled me to design and produce the various solutions to the problems we faced when designing and building The Laughing Cavalier (or TLC for short)
Our company uses all the resources available close to our home base near Aylesbury ensuring personal supervision throughout the build. The completed hulls are brought in by road and laid on a level foundation in the yard adjacent to the workshop ensuring every item within the boat is correctly aligned both vertically and horizontally.
Your decision on the design of soft furnishings and the selection of materials for your narrowboat will be given the support and guidance of our own interior designer whose expert eye and colour matching experience is second to none.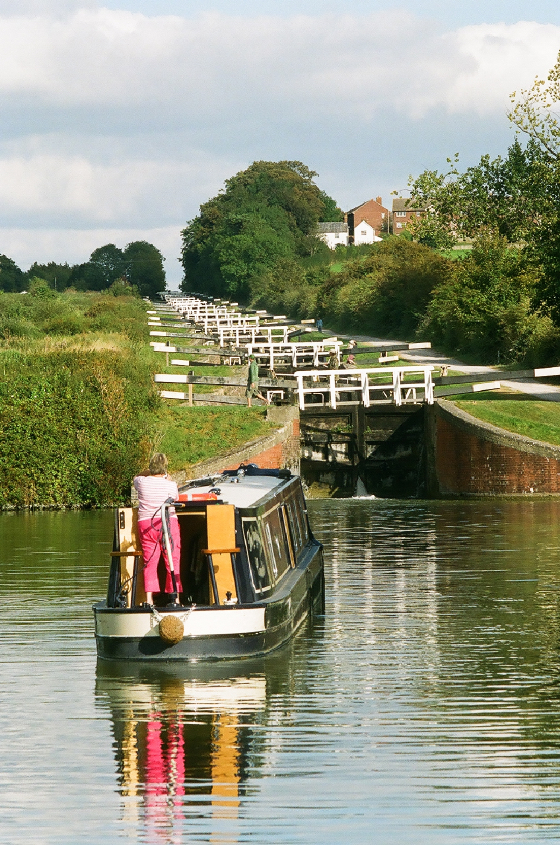 "The Laughing Cavalier" at the foot of the Cain Hill Flight.